Aggressive Dog Training Programs
Like humans, dogs go through anxiety, fear, and aggression due to many factors. These can be attributed to nature, nurture, and even a combination of both. Traumatic events, abuse, overcrowded places, physical pain, and even genetic predisposition are some examples that trigger aggression or anxiety in dogs.
Aggression/Anxiety Package
There are telltale signs of an aggressive dog or a dog with anxiety. Snarling, biting, becoming very rigid, and making guttural sounds are some signs of an aggressive dog. While dogs suffering from anxiety tend to exhibit destructive behavior. Signs like panting, drooling, shaking, and whining should alert you that something is very wrong with your dog.
There are steps on how to approach an aggressive dog and address the issue at home. But the American Society for the Prevention of Cruelty to Animals advises that the safest and most effective way is to use behavior modification that should be supervised by a qualified dog trainer.
Off Leash K9 of Columbus acknowledges that it can be quite a struggle to deal with an aggressive dog. To help dog owners manage this challenging behavior, OLK9 designed the Aggression/Anxiety program, an 8-week intensive aggressive dog training program to help manage your dog and minimize reactivity of his aggressive behavior.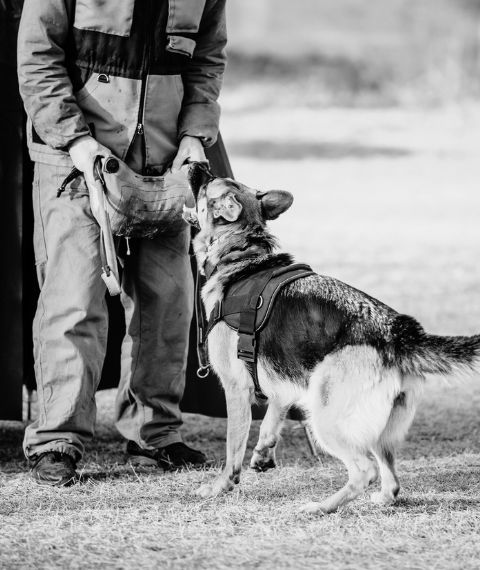 This program is divided into two parts. The first four (4) weeks will be spent on OLK9's Basic Obedience lesson. The second four (4) weeks will be spent working on the triggers of your dog and how to manage it.
Each of the lessons has a specific goal. The Basic Obedience lesson aims to establish a firm foundation between you and your dog. With this lesson, a dog is expected to be calmer and more behaved off-leash, ready to listen to commands. But for aggressive dog cases, the goal is to ensure that you can effectively communicate with your dog. Doing so will also help you understand your dog better, creating a bond borne out of trust and mutual respect.
In the second half of the Aggressive/Anxiety program, the goal is to minimize the reactivity of aggression and anxiety. Based on initial evaluation of behavioral signs and patterns, our dog trainer will design a customized workaround addressing your dog's triggers using various situations in different environments.
After the entire 8-week program, your dog will be more obedient and calmer, equipped with the necessary tools and skills to lessen reactivity. At most, your dog's aggressive behavior will significantly improve.
Reactivity can occur anytime no matter the professional help you get for your dog. There is no "fix" to these underlying problems. By continuing to help your dog at home and reinforcing the lessons outlined in the Aggression/Anxiety program, you can help him a lot. And while that may be the case, OLK9 has achieved a lot of success in this area through a strong foundation of obedience and how to manage these behavioral issues in the future:
This program has produced numerous life-changing dog results, and client approved based on these reviews:
"Great experience working with K9 Offleash. My trainers were Kayleigh and Sierra, both were very knowledgeable and great at working with my dog. I have a 4 year old Vizsla who is very high energy and stubborn."
"Thank you all so much for helping to train us and Ryker! Everyone was fantastic and we have a better dog because of it! We highly recommend you guys!"
"Marty was incredible!! I cannot begin to explain what a change he made with our dog. He was so knowledgeable and responsive. This was the Best money we have spent!!"
Your dog is a precious member of the family, he gives life to your home and is a loyal companion. It's not only painful to watch him suffer through behavioral issues, it's heartbreaking! You're here because you care enough to get your dog better. Talk to any of our professional dog trainers right now, and let's get started to giving your dog the quality of life he deserves!
do you have questions for us?
Or Call us for a free consultation today!