Off Leash K9 Training
Columbus, OH Dog Trainers
We Serve
Columbus
New Albany
Powell
Dublin
Westerville
Upper Arlington
Columbus
New Albany
Grandview Heights
Worthington
Gahanna
Bexley
Pickerington
Solve Your Dog's Behavior Issues Today!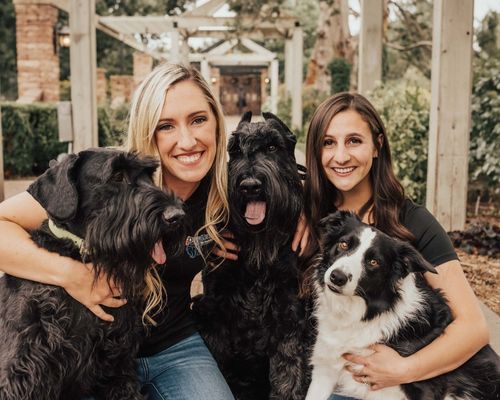 We understand that your dog more than just a pet; they're family. With so many "dog trainers" out there, you can trust us to treat your pup with the love, patience, and compassion they deserve, just as you would.
We take pride in our reputation for providing outstanding behavior and obedience training. Trust us to guide your dog to confidently follow commands, whether they're outside, with lots of distractions, and even off-leash!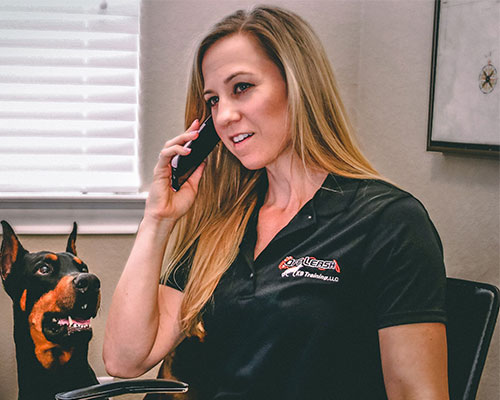 Is Off Leash K9 Training the right choice for you and your dog? Discover the difference our trainers can make by speaking directly with one of our expert trainers today! After all, it's FREE!  Speak with a Pro Trainer Today!
Personalized Dog Training for a Well-Behaved Pup!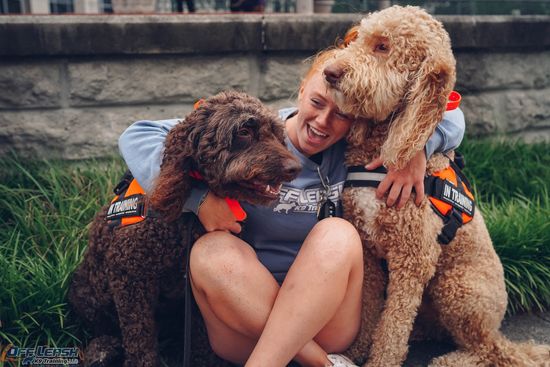 Loving Trainers Who Care!
Our OLK9 Columbus dog trainers some of the most highly trained professionals in the Columbus area. They have undergone intensive training on how to handle a variety of dog breeds with different temperaments. But just as important as the animals, our trainers are experts and training you, the dog owner!
It is our mission to work with you on your journey to a better relationship with your dog. We're here to help you better communicate with your dog and understand their behavior. When you start to see the results of our training, you'll see why thousands of Columbus dog owners recommend us as Columbus' Best Dog Trainers!
Off Leash K9 Training Columbus has designed dog training programs and lessons for every type of dog. We work with all breeds, ages, and types of issues. Our programs utilize OLK9's proven training methods and have served the Columbus, OH area for over a decade.
Our goal is to ensure not only an obedient dog, but an overall happy and independent furry friend you can bring anywhere with you worry-free!
OLK9 Columbus has dog training programs that serve dogs with a large variety of behavioral issues. From puppy training to advanced behavioral modification, we have it covered. 
We guarantee that your beloved furry companion is in good hands, and over the years, we have a growing pack of OLK9 dog clients to prove that we are committed to bringing out the best in your pup. Beyond the basics, our programs aim to create a stronger bond between you and your dog.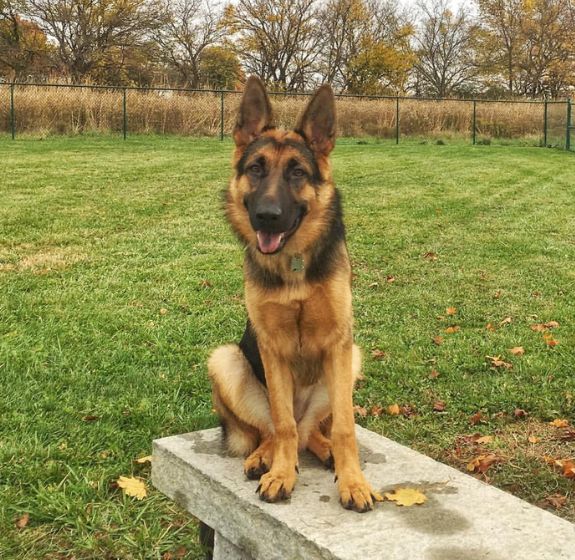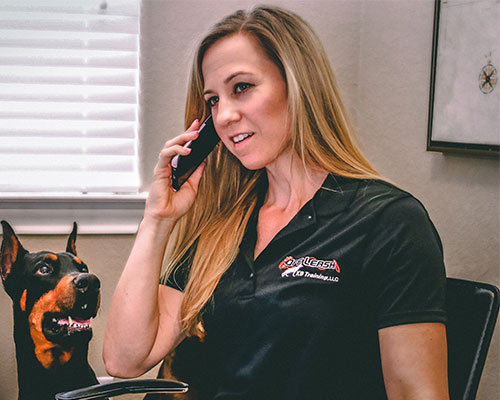 No two dogs are the same. While OLK9 has many dog training programs, we take a personalized approach that centers on your dog's temperament and behavior patterns. While some specific dog behaviors can be easily corrected with our basic or advanced dog obedience training, there are deeply-rooted behavioral issues that can be challenging to address.
This is why we highly encourage you to contact us for a free one-on-one phone consultation. Together with a professional dog trainer, we will discuss the best program your dog should enroll in to become well-mannered and confident. And if needed, enroll in a program that will correct his behavioral issues.
Talking to our professional trainer will also give you a clearer perspective on how to help your dog at home. Dog training is a collaborative effort, and you, the dog owner, should be as committed as the dog trainer is.
The Benefits of Off Leash K9 Training
Dog training is more than just obedience per se. It encompasses a lot of benefits that will result in a happier dog. If you haven't made up your mind yet, think about these benefits:
Talk to Our Columbus Dog Trainers Today!
How Can We Help You & Your Dog?
Off Leash K9 Training Columbus
The Best Dog Training Programs for a Well-Mannered Pet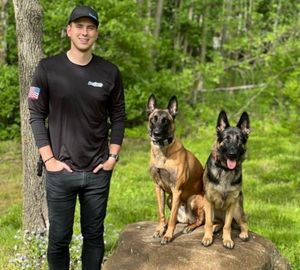 Do you want your dog to display basic manners?
Are you looking forward to your dog socializing with other dogs and people?
Or are you just trying to walk your dog down the street without your dog chasing every moving object?
Let us help you! Here at Off Leash K9 Training Columbus, we can teach your dog basic and advanced manners. We can train your dog to be obedient, off-leash, so you won't have to worry about him getting away from your or pulling you for several blocks on your morning walk! And best of all, we will bring out the best personality in your dog so he can have the quality of life he/she deserves!
And if you think we're just all talk and no bite, no pun intended, we have guarantees on our dog obedience training and board and train dog training to make good on our claim! Make sure to ask our trainers about our satisfaction guarantee!
Off Leash K9's one-on-one dog training lessons are fitted based on your dog's breed, temperament, and behavior patterns. This private lesson includes commands and manner training and homework that you, as the dog owner, should practice with your pet consistently. Meanwhile, OLK9 also has a more intensive training program that requires your dog to stay with our professional trainer for a while. In fact, our board and train programs have produced so many amazing dogs, that we are well-recognized as Columbus, Ohio's most effective dog trainers!
The Off Leash K9 Training system was created by the company's founder, Nick White. Nick is well-known in the dog training world as one of the world's top working dog trainers for the military and police forces across the US. He is also known as an amazing celebrity dog trainer. 
We train using an advanced e-collar system that helps us communicate better with your dog and help him focus. No single method can be used to train all dogs. It is OLK9's long history and experience that has taught us how to best deal with different dogs in different situations. We focus on and implement an approach that takes into account your dog's breed and unique temperament. Then, we find which method motivates the dog and the stimulants he responds to.
While doing all these, and even when we are training your dog, we maintain open communication. We check in constantly with our dog owners. We provide updates, photos, and videos that show you how your beloved family member is doing while he is with us!
We guarantee* a 100% obedient, 100% off-leash, and 100% distraction-proof pup at the end of our Board & Train program! Your dog can be trained to have the same level of obedience as most police/military working dogs.
Join the Off Leash K9 Training Columbus Pack
"Carissa did an amazing job boarding and training our dog, Twigs!

She was super communicative, patient, and clearly kept her very entertained while she was with her. She also did an awesome job training my husband and I on how to use the e-collar when we picked her up. Twigs is super happy, very tired from how active and engaged she has been, tuckered from all the playing she got to do, and responds SO well to the e-collar thanks to all of Carissa's hard work. Such a great investment as now we have a way to clearly communicate with our pup, for her safety and our sanity.

Twigs clearly loved Carissa as well and we will definitely keep in contact for any future training needs—could not recommend her more!"
"There are not enough words to describe how impressed and thrilled I am with Off Leash K9. My 9 month old Rottweiler puppy Ripken completed the two week Board and Train program in July 2018. He returned to me a totally different dog...in the best way possible!! Prior to this program he was border line out of control being reactive/protective. He jumped on everyone and was really reactive towards men. With his trainer Sierra's help I was able to learn and understand that his behaviors were not aggression based but rooted in fear. Sierra was able to completely turn his confidence level around and now we go out together and I am not concerned that we are going to have an incident. He is 100% off leash trained. Sierra provided me with daily updates and videos/pics of Ripken's progress during the 2 weeks and it was amazing to see the transformation taking place. This is the best money that a dog parent can invest. I tell everyone I know how wonderful this experience was and I HIGHLY HIGHLY recommend Off Leash K9 to anyone in need of quality training for their dog."
"We did the 2 week course with Austin for our 2 year old Pitt, Apollo. It was worth every penny. He had gotten to the point where I could not take him for walks without getting dragged before this course. Now he does not pull on the leash and listens to every command. Austin made it clear that there is still lots of work to do and it is up to us to keep up on daily training but that he is also always available for more training and advice at no extra cost. He kept in touch with us throughout the course with updates and pictures and videos of Apollo's progress and spent a long time at pick up walking us through the commands and working with us and Apollo together. We looked into lots of different training programs and I don't think we could have gotten a better value. This might not be the cheapest program we found but I don't think anyone else offers more for your money. We finally feel confident we can bring our boy in public again without him jumping on people or dragging us everywhere. Can't thank Austin enough!"
Obedience Training to Unleash Your Dog's Full Potential
Off Leash K9 Training Columbus designed lessons and programs addressing specific challenges and highly specialized behavioral issues. While this is the case, it is up to the dog trainers to tweak and personalize these lessons to fit best with your dog's needs. Although we take note of the program you want to enroll your pet in, our expert trainers will guide you which program is ideal for your dog's situation.
If you suspect your dog is going through something beyond his usual playful and hyperactive self, give us a call! Your dog may be going through anxiety, he may be experiencing fear, or worse, he has aggressive behavior.
Our seasoned trainers know when a dog is going through behavioral issues, and we will help as much as we can! For sensitive situations like this, we employ a 2-step approach to help manage this behavior. First, we establish strong communication with your dog through obedience lessons. Then, we carefully work through the dog's triggers, dealing with various scenarios and environments to desensitize him.
Aggressive Dog Training aims to minimize the occurrences of reactivity. We have worked through numerous cases like this and achieved success. Experience tells us that continuous positive reinforcement at home is a major factor in helping your dog recover slowly. This is why you should have a strong connection with your dog built on communication and trust.
If you're looking for a quick fix to your dog's behavioral issues, this program is not for you. But if you're willing to work with us, hand in hand, and give your dog a chance at better well-being moving forward, let's work together!
Off Leash K9 Training's Board and Train program is a more intensive and detailed training system that has been gaining popularity in the Columbus dog training scene. This specialized program is divided into a 1-week program and a 2-week program where we bring your dog to live with our trainer.
Before we take in your dog for a Board and Train program, he will be evaluated thoroughly. Although the program has set criteria, these will be modified to make your dog's quality of life the priority. Factors like behavior motivation and response pressures are carefully determined by our experienced trainers. If the dog has any behavioral issues such as aggression or fear, our trainers will come up with a strategy to work through these. However, if we deem it necessary, we may have to suggest enrolling him in a more specialized program.
This program takes an immersive approach to teach your dog not just basic obedience lessons, but the right manners as well. Your dog will also undergo practical lessons in different environments using multiple distractions especially outside. Our trainer will focus on high-level precision training to bring out a well-mannered dog at the end of the program.
So sure are we that we can turn your dog's life 360 degrees with our Board and Train program so that it comes with a LIFETIME GUARANTEE! For your entire pet's lifetime, you can avail of FREE refresher lessons as needed.
At the core of OLK9's programs, Dog Obedience Lessons are the basic starter pack for a hyperactive dog.
Who needs this? If your dog needs to be on a leash when you have visitors at home, you should enroll him in this basic course. If you cannot bring your dog outside your home without a leash, this basic obedience lesson is for both of you. Is your dog easily distracted in different environments? Then this is for him.
There are two types of lessons for dog obedience: the Basic Obedience and the Basic & Advanced Obedience curriculum. Each lesson includes dog manners and commands that aim to teach him obedience regardless of the distraction. Homework will also be regularly given, and it is up to you to reinforce this at home. With our training methods and your help, your dog could be well-behaved and obedient (off-leash) at the end of these lessons.
Fun, cute, playful, and really a ball of energy that loves to run around and chew on things who doesn't love them? But they'll even be more lovable if you start them training early on.
The Puppy Training Consultation is made to equip puppy owners with information to raise the fur pups into well-mannered dogs early on. This one-on-one private consultation covers a wide range of topics: how to train your puppy to be confident, how to potty train him, and teach him socialization skills. During this session, you can ask your trainer everything you need to know about training your puppy for obedience.
Tons of Before & After Videos
The Most Dog Training Videos On YouTube!
Meet the Paw-some Off Leash K9 Training Team
If you've been reading our Testimonials or you've been watching our Before & After training videos, you'd often read or hear how awesome Marty, Michelle, Carissa, Adam or Austin are. These professionals comprise our superstar team of dog trainers in Columbus!
And our previous dog clients love our trainers too! Meet the paw-some team behind every dog's successful obedience journey
Questions? Our Columbus Dog Trainers Have Answers!
An e-collar works as a stimulation mechanism that gives off a very subtle electric pulse. The stimulation mimics a "tickle" sensation to get the dog's attention, so he can focus on the trainer. The e-collar is never used to punish, shock, burn, or tase your dog. We would never do anything to harm them!
For our Dog Obedience lessons, we offer a guarantee that if you're not satisfied after the first session, it is on us! No questions asked whatsoever. In addition, we are extremely confident in our Board & Train program that we offer a Lifetime Refresher Guarantee! Please ask us about our Guaranteed Satisfaction program!
Dogs can be trained using the e-collar system when he is at six (6) months or older.
But you can enroll a younger pup under six (6) months old in our Puppy Training Consultation.
Off Leash K9 Training is Respected Worldwide!
Off Leash K9 Training's humble beginnings started with Nick White. He left his posts in the US Marine and the US Secret Service to focus on training dogs, specializing in the e-collar system, and achieving great results.

He is a World Record holder for having the longest "down from a distance" obedience at 350 yards. Nick is highly experienced in training dogs in different breeds, sizes, and temperaments to promise a 100% obedient, off-leash dog!