Dogs are part of the family, but sometimes, they become quite a handful. It's a challenge to bring them anywhere without having to worry about what they'll do the minute you take your attention off of them.
But here's the thing, dogs are intelligent creatures too and given the right guidance, they can fully become well-behaved, calmer, and independent off-leash.
Off Leash K9 of Columbus has designed Board and Train programs that allow your dog to stay with one of our professional trainers, and begin his journey to freedom!
1 WEEK FREEDOM BOARD AND TRAIN PROGRAM
Picture this: your dog running and playing freely in the park or playground, but the minute you call to him using a command, he runs back to you without hesitation, no matter the distraction.
This could be your reality too with Off Leash K9 of Columbus' 1 Week Freedom Board and Train program. Its main goal is to help dogs become obedient off-leash. For an entire week, your dog will stay with one of OLK9's expert trainers. Your dog will undergo one-on-one immersive sessions, learning commands, proper manners, and other obedience lessons.
The entire 1-Week Freedom Board and Train program will cover the following: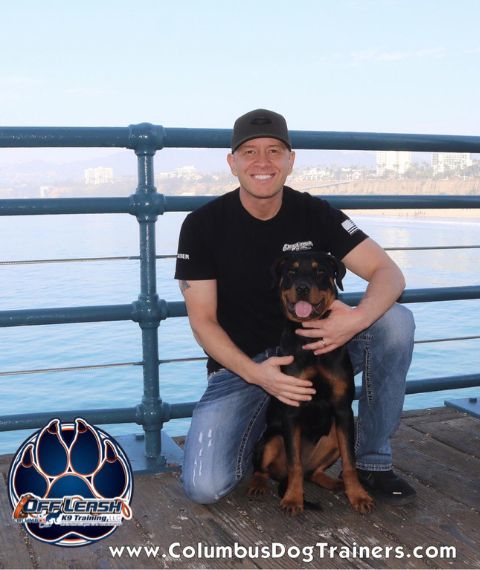 No two dogs are the same in temperament, behavior, or social development. We ensure that the program your dog will be enrolling in addresses the challenges you're encountering with him. Before we sign up your dog for any program, you can talk to any of the OLK9 trainers through a free phone consultation.
This is also why under the trainer's care, your dog will undergo different kinds of distraction simulations to teach him how to respond to it. Every distraction will be covered in various settings. The 1 Week Board and Train program ensures 100% Obedience and comes with a Lifetime Refresher guarantee! For the entire lifetime of your pup, you can come back to us and we will work on any issues your dog might have free of charge!
This program has produced numerous life-changing dog results, and client approved based on these reviews:
"Great experience working with K9 Offleash. My trainers were Kayleigh and Sierra, both were very knowledgeable and great at working with my dog. I have a 4 year old Vizsla who is very high energy and stubborn."
"Thank you all so much for helping to train us and Ryker! Everyone was fantastic and we have a better dog because of it! We highly recommend you guys!"
"Marty was incredible!! I cannot begin to explain what a change he made with our dog. He was so knowledgeable and responsive. This was the Best money we have spent!!"
Give your dog a better life by obedience training through different Board and Train packages offered by Off Leash K9 of Columbus. For the 1 Week Board and Train program, the waiting list is quite long so please call ahead before you decide to enroll your dog so we can accommodate you.
While Off Leash K9 of Columbus guarantees the effectiveness of its Board and Train program, major behavioral issues and deeply rooted problems are impossible to fix in the short training period. Rather, we will provide you with help on how to manage these issues better.
2 WEEK BOARD AND TRAIN PROGRAM
At Off Leash K9 of Columbus, this is what we're all about! We don't make empty promises, but instead we apply a custom approach at training your furry companion with the help of our fully competent professional trainers and guarantee a 100% obedient, distraction-proof, and off-leash pup!.
There is a reason why our 2 Week Board and Train program is a popular dog training in Columbus. The transformational results achieved during this immersive training have significantly impacted numerous owners' lifestyles and their dog's entire well-being.
For this 2 Week Board and Train program, your dog will have to stay with an OLK9 professional trainer. 
During the 2 Week Board and Train Program, the dog will undergo the following:
The 6 Guaranteed commands are the following: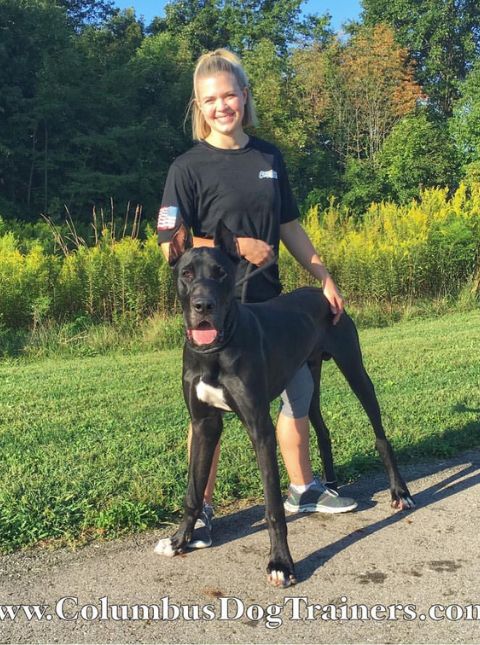 The commands listed above are just the beginning of the training program. Under the supervision of OLK9's professional trainers, your dog is given practical, daily obedience lessons customized for his temperament, behavioral patterns, and needs.
Upon enrollment in the 2 Week Board & Train program, the dog is evaluated. The assigned professional trainer will customize a program based on a specific criteria with answers gathered from you, the owner. The trainer then makes an action plan to address the challenges you are encountering with your dog including aggression, anxiety and fear.
At the core of this intensive program is OLK9's commitment to bring out the best in your pup!
The 2 Week Board and Train program has a LIFETIME GUARANTEE! This means free refreshers and lessons during your pup's lifetime as needed.
While your dog stays with us at OLK9 of Columbus, simulation training in various environments and all kinds of distractions are done to prepare him for the outside world. At the end of the program, we invite the dog's owner for a one-on-one 2 to 3-hour session. Here we will discuss in detail your dog's improvements and how to best communicate with him moving forward.
Check out our Youtube channel for the before and after Board and Train program results. These videos showcase actual client dogs of various breeds and temperaments. These client dogs have shown marked improvement since the first time they trained under our program.
Through the years, Off Leash K9's 2 Week Board & Train program has established a strong reputation in dog training in Columbus. We have pet owners coming from all across the country, each presenting dogs with unique situations that need custom solutions.
While we always look forward to helping as many client dogs as we can, we advise you to please contact us first before enrolling online because the waiting list could reach as far back as three months. For detailed information about our OLK9 Board and Train program, read further about it in the Plans section.
See what our clients have to say about how we've made a difference in the life of their dogs:
Give your dog the best quality of life through Off Leash K9 of Columbus' 2 Week Board and Train program. You will know you've made a difference in your dog's life when they come back to you happy, well-behaved, and much calmer!
do you have questions for us?
Or Call us for a free consultation today!